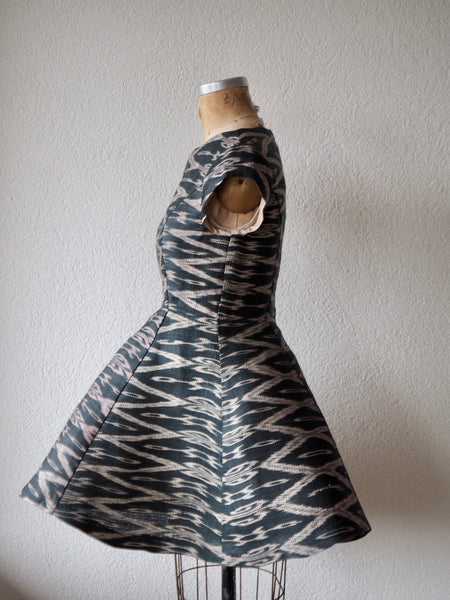 Keith A. Brown
THE MINDANAO BOAT NECK DRESS
This dress is a multi colored one-of-kind made from a semi stiff T'nalak fabric from Southern Mindanao, a region in the Philippines. It's fitted at the waist and the stiffness of this fabric gives it body necessary to take on the proportions in which it does. 
 SPECIFICATIONS:
Finished length from center back neck: 32"

The waist is finished at 30" 

It is lined with a slim stretch fitting under skirt cut to the body in an 

effort to minimize the underside. Think of it as a builtin spanx. 
22" back invisible zipper. 
The hem is left natural and meant to be worn this way but a client may alter.
Short capped sleeve.
Has no side pockets.
About T'nalak: 
T'nalak is a traditional cloth found in Mindanao island made by a group of people in Lake Sebu, South Cotabato called T'bolis, Tboli people.
This traditional cloth is hand-woven made of Abaca fibers which traditionally has three primary colors, red, black and the original color of the Abaca leaves. The colorant of the materials are naturally dyed boiled in with bark, roots and leaves of plants. It is an heritage and believed that the intricate and creative patterns of the Tinalak was seen on their dreams and made it on to work. They can't create a design of the Tinalak if they haven't dreamed of it. They are sometimes called the "Dream Weavers".
These cloths take months to produce as they are developed the old fashioned way, by weavers from indigenous tribes, primarily those caught living in the conflict zone, making a very small living from tireless works.

Despite the expense of these cloths once they make it to a major urban area, I'm committed as long as I can to buy them and sell them in the form of my designs in hopes that in some way while making clients happy with my beautiful creations, at the same time I'm providing hopefully a better livelihood for some others.